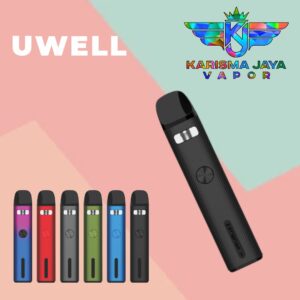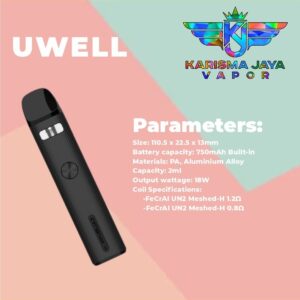 UWELL Caliburn G2 Kit 18W 750mAh
Uwell Caliburn G2,The device gives haptic feedback to the users through different vibrate patterns. It notifies short-circuit, low voltage, overdraws, etc. Caliburn G2 adopts a wheel adjustment for the airflow, It is easier to get your ideal airflow and tastes with precision. Except for the pre-installed meshed-H 1.2Ohm coil, Caliburn G2 is compatible with 1.0Ohm coil and 0.8Ohm coil of Caliburn G. In one kit, there are two coils, 1.2Ohm and 0.8Ohm, providing you MTL vape andrestricted DTL vape experience separately.
Curved to shaped, bettered to fit your lips, it just feels right to vape on this drip tip. Uwell takes all her effort to restore e-liquid flavor, Pro-FOCS flavor adjusting tech is the key to achieve that. We provide you with original taste, pure and sustain to the last drop of the e-liquid. Compared with Caliburn G, Caliburn G2's e-liquid check window reduces the chances of running out of e-liquid without refilling. Convenient to refill e-liquid, it takes less effort – saving your time, being ideal for refilling on the road. The filling port on top also increases leakproofness.
Specifications:
Materials : PA?Aluminium Alloy
Size : 110.5mm×22.5mm×13mm
E-liquid Capacity : 2ml
Colors : 6 colors
Net Weight : 36g
Output Wattage : 18 W
Battery Capacity : 750 mAh
Coil Specifications :
FeCrAI UN2 Meshed-H 1.2Ohm
FeCrAI UN2 Meshed-H 0.8Ohm
Packing List:
1x UWELL Caliburn G2 Kit 18W 750mAh
1x meshed Coil 1.2Ohm
1x meshed Coil 0.8Ohm
1x User Manual
1x type C cahrging Cable