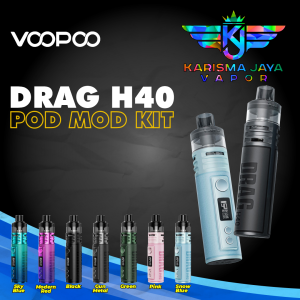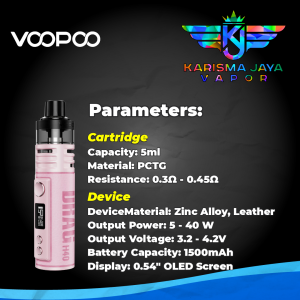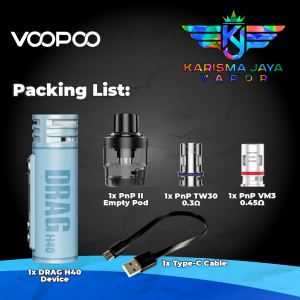 Voopoo Drag H40 Pod Mod Kit
the VOOPOO Drag H40 Pod Mod Kit, offering a 1500mAh battery, 5-40W output range, utilizing PnP coils to deliver outstanding flavor and vapor. Constructed from durable zinc-alloy, the chassis of the Drag H40 Pod Mod is impervious to light falls and drops. Maintaining a lightweight profile, the Drag H40 is perfect for those that are on-the-go, easily residing in the pocket, purse, or bookbag. Adopting the PnP Pod 2, the VOOPOO Drag H40 can call upon the PnP replacement coils to unravel the complex layered flavors of your favorite eJuice. Outfitted with a 1500mAh battery, the H40 Pod Mod can last throughout the day, but can be recharged via Type-C Port for a quick and rapid charging times.
Options
The Voopoo Drag H40 is fully compatible with a wide selection of coils available on the PnP coil platform, satisfying both DTL (direct-to-lung), RDTL (restricted-direct-lung) and MTL (mouth-to-lung) vaping experiences, bringing rich and diverse flavour production.
PnP coil range:
PnP-TW20 – 0.2Ω Mesh (40-55w) DTL
PnP-TW30 – 0.3Ω Mesh (28-36w) RDTL (included in kit)
PnP-VM1 – 0.3Ω Single Mesh (32-40w) DTL
PnP-VM3 – 0.45Ω Single Mesh (25-35w) Half-DTL (included in kit)
PnP-VM4 – 0.6Ω Single Mesh (20-28w) Half-DTL
PnP-VM5 – 0.2Ω Mesh (40-60w) DTL
PnP-TM2 – 0.8Ω Mesh (12-18w) MTL
PnP-TM1 – 0.6Ω Mesh (20-25w) MTL
PnP-TM2 – 1.2Ω Mesh (10-15w) MTL
Features:
Resistance Range: 0.1-3.0ohm
Charging: Type-C Port
Operation: Intuitive Firing Button
Pod Series: PNP Pod 2
Pod Capacity: 5mL
Coil Installation: Press Fit
Pod Connection: Magnetic
Overtime Protection
Over-Current Protection
Low Battery Protection
Over-Heated Protection
Overcharge Protection
Short-Circuit Protection
Specifications
Name: PnP POD II
Capacity: 5 mL / 2 mL
Material: PCTG
Resistance: PnP-VM3, 0.45 Ω    PnP-TW30, 0.3 Ω
Name: DRAG H40 Device
Material: Zinc Alloy, Leather
Output Power: 5-40 W
Output Voltage: 3.2-4.2 V
Resistance: 0.3-3 Ω
Battery Capacity: 1500 mAh
Display: 0.54″ OLED Screen
Package Comes With:
1 x Drag H40 battery device
1 x PnP Pod II empty pod (upgraded version)
1 x PnP-VM3 0.45Ω coil (preinstalled)
1 x PnP-TW30 0.3Ω coil
1 x Type-C USB charging cable
1 x User Manual / PnP Platform card
Available Options:
Black | Green | Gunmetal | Modern Red | Pink | Sky Blue | Snow Blue